This completely renovated, four-bedroom 19th century home in the Village of Waterford offers an eight-car garage with a loft, a carriage house featuring a party room and gym on the upper level, and a barn with four stalls for horses or livestock. The home is listed for $2.1 million.
The property rests on 12 acres of farmland some five minutes from both Leesburg and Purceville, and is only 30 minutes from Dulles airport, said Joy Muczko of the Platinum Real Estate Group.
Muczko highlighted the central home's "Fabulous views," and added, "You can have everything with this property."
According to the home's listing, the main home — built in 1836 — and surrounding farmland were purchased by Distinctive Building Group in 2015, and revamped into a contemporary farmhouse.
The home's exterior features two stories of exposed brick with dark shutters and an elevated porch with white columns, trim and banisters just beyond the front door. Vehicles enter the property from a circular driveway leading to a broad concrete walkway that invites visitors up the stairwell leading to the porch.
Inside, the home's foyer features refinished off-white plaster walls and dark, natural wood finishes on its front door, trim and banisters. The home's original wood floors and trim were painstakingly restored, according to a promotional video highlighting the property.
Guests will walk into a dining room with tall windows, a fireplace with a mirror mounted on its mantle, and white ceilings, crown and floor moldings to the left of the foyer. To the right of the foyer lies a living room with tall, arched double doors and another fireplace with a mirror set into its mantle.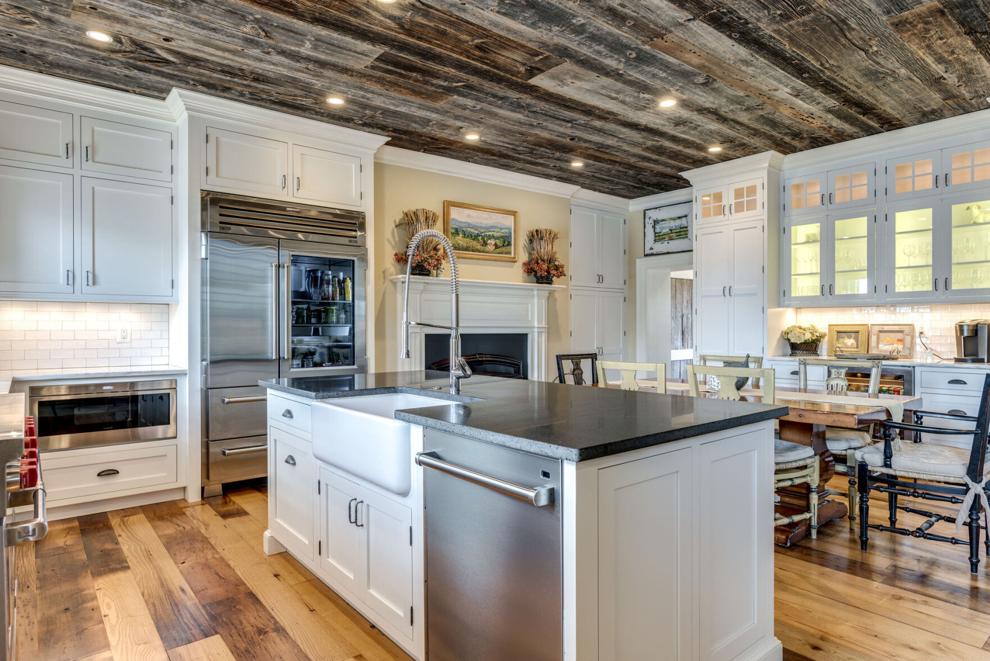 The home's kitchen sports tall white millwork, a ceiling with reclaimed chestnut floorboards and recessed lights, a central island with a dark stone countertop and an informal dining area next to another fireplace with a white mantle and columns.
An office space for telework also rests on the ground floor, and the home is equipped with high-speed internet — a rarity for country homes of its kind, according to Muczko.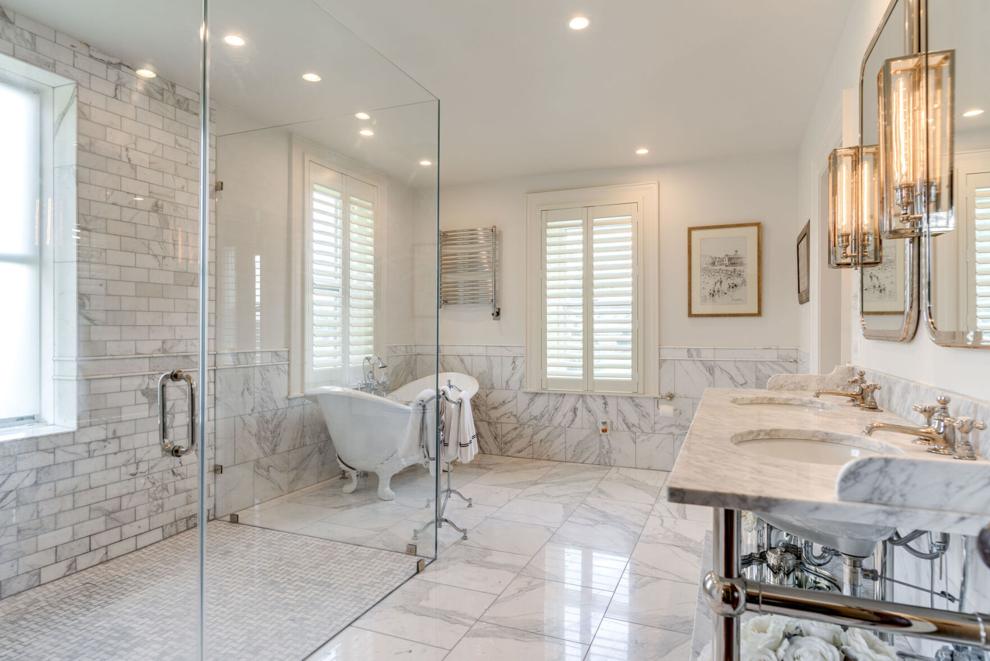 Three of the home's four bedrooms are on the second floor. The owner's suite offers a spa-like bathroom with white, marble-like tiles spanning a third of the walls' height. An open-frame glass shower stands next to a four-legged bathtub and on the opposite wall, a dual vanity with marble-like countertops and industrial lights allowing future residents to adequately prepare for the day.
In addition to the properties' other amenities, including the garage, carriage house and stable, Muczko highlighted that the farmland onsite can be used for a vineyard, a brewery, or another agricultural use that would allow homeowners to participate in the county's land use program and lower their property taxes.
"With this kind of land, you could have it all," she said.